The packages listed below are examples of our most requested work. The prices are averages from past projects and should be used as an estimate, not a final price.  Factored into the cost is the rental fee, delivery, setup, and takedown of the display. Additional charges may be added if the location is more than 25 miles away from our Middleton location or for other unusual installation conditions.
To place an order, fill out the Consultation Form  (link found at the bottom of the page under 'Schedule a Consultation '), list what package you are interested in renting, and any details you would like us to know before the free consultation. You can also place orders over the phone. We typically respond within 24 hours and from there will work with you to negotiate a finalized rental contract.
If you would like more information, please refer to our Q&A section, or call our customer support line at (800) 844-7001.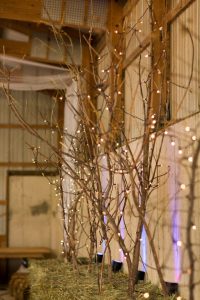 Standard Up-Light Package
Our standard uplight package lights your room with 8 LED, high-powered, colored uplights. Each light has a semi-customizable RGB range of color options to choose from. The lights can dim, react to sound, strobe, and hook into most sound systems.

These lights are for indoor use only!

Product Specs:
Light fixtures are black cylinders measuring 4.75 inches across the top (the longest width including the removable handle is just over 6-inches wide) and 4-inches tall (just under six with the handle fully extended). Customized covers and stands for the fixtures are available for an additional cost.

Package includes: Weekend rental of 8 fixtures, delivery of product, installation, programmed on/off timer (if needed), and removal.

Package Price- $500
Each additional light- $40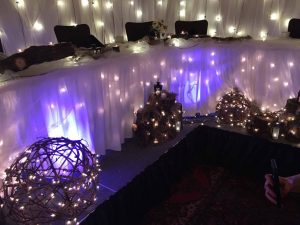 Luxury Light Package
The Luxury Light Package offers the perfect balance between power, aesthetic, and control. With each fixture boasting 30,000 color options, advanced dimming capabilities and targeted beam control, our displays are some of the most easily customizable on the market.

The display can be controlled via a phone app as well as be pre-programmed to dim, change colors, and turn off at any time during your event. Each fixture can be programmed to function at full capacity independently from the other lights.

Power is routed from one central source allowing for minimization of cords and free range of placement (no trying to find a nearby outlet or using excess extension cords). They can be mounted, hung, and angled to light any single or large area (extremely challenging mounting may incur an additional cost).

The entire display is 100% safe for all outdoor conditions- Wisconsin tested and approved.

Product Specs:
Fixtures are 9-inches tall at their highest, have a 2.5-inch wide light element and a 4.5-inch base (customized covers and stands for the fixtures are available for an additional cost).

Package includes: Weekend rental of 8 Luxury lights, delivery of product, installation, display programming, and removal.

Package Price - $1200
Each additional light- $125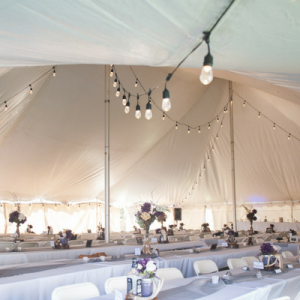 Tent Lights Package
The Edison lights that we use in big tents are specially reinforced to take the weight of the long runs needed to light large spaces. Each light is a warm white colored LED bulb with two-foot spacing. Our standard packages are designed for tents with two center support beams, as shown in the picture, and comes in two size options. If your tent is not this type, or not close to one of the sizes listed, the price will have to be negotiated on an individual basis. Please refer to our Custom Decor page.

Package includes: Weekend rental of lights, delivery of product, installation, programmed on/off timer (if needed), dimmer switch for mood lighting, and removal.

Package Prices:
30x50-foot tent with ~130 lights- $850
40x60-foot tent with ~165 lights- $1000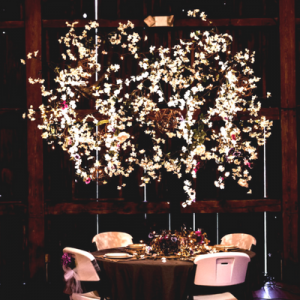 Cherry Blossom Tree
Our Cherry Blossom trees are all hand-crafted in-house to look as realistic as possible. No two trees are exactly the same. Each tree measures around five and a half to six and a half feet tall and can be used as a free standing decor item or placed on tables for a truly magical table display. The sleek trunk design ensures maximum visibility for those at the table.

Our Luxury Lights can be placed in a removable base under the tree to color the flowers and cast cherry blossom shadows on the ceiling. The strong, but malleable branches will support small to medium lanterns, vine balls, strand lights, and most other decor items. All decor items rented for the decoration of the Cherry Blossom Tree will be discounted from list price.

Premium Tree Package- $1400
Includes: Weekend rental of 4 trees and 4 Luxury Lights, delivery, installation, programming of lights, and removal.
Each additional tree (with 1 more Luxury Light)-$300

Standard Tree Package-$800
Includes: Weekend rental of four trees, delivery, setup, and removal
Each additional tree-$175

Ladder Light Fixture
With seven free hanging Edison bulbs and an earthy brown stain, this wooden ladder is the perfect light fixture for any wedding or event going for a vintage feel. The adjustable lights hanging from the top of the ladder give off a bright, warm light while the filaments inside each of the bulbs all have a unique and decorative twisting pattern that glows golden in any light. This fixture is most easily hung in barns, sheds, or spaces with open ceiling supports. The installation of the fixture is entirely depended on the space. A consultation is required.

Product Specs:
Each ladder measures 6-feet tall and 1-foot wide and comes with seven drop-down lights. We offer a variety of vintage Edison bulbs to choose from.

Package includes: Weekend rental of ladder fixture and your choice of 7 Edison bulbs, delivery of product, installation, programmed on/off timer (if needed), and removal.

Rental Price- $250
Each additional drop down light- $10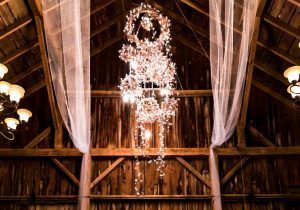 Grapevine Barn Chandelier
This chandelier is specifically designed to accent the tall gorgeous ceilings of barns and sheds. Made out of different sized pre-lit grapevine balls, strand lights, and 5 drop-down lights, this chandelier is as grand as it is unique, and the perfect addition to a barn wedding. With all of the strand lights, it measures almost 15-feet long. It can be adjusted to 5-feet.

This fixture is heavy and intended to hang from support beams in barns or sheds. Installation in other areas will be determined on a case by case basis. A consultation is required.

Package includes: Weekend rental of chandelier and your choice of 5 Edison bulbs, delivery of product, installation, programmed on/off timer (if needed), and removal.

Package Price- $325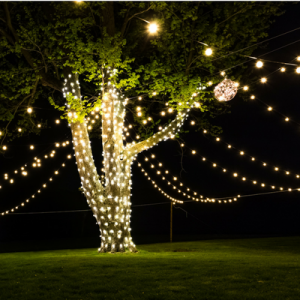 Edison Tent
The Edison Tent is designed to dramatically light and decorate a large, open, outdoor space without the use of any other lights. As the sun goes down, the black runs start to fade into the night sky, giving the space under the lights an ethereal feeling. We recommend this to people who want to transform a dark, semi-flat outdoor space into a truly magical venue.

Product Specs:
The standard display comes in two sizes and is supported in the middle with 2 wooden beams. The larger size makes a rectangle of light that measures 70-feet wide and 100-feet long. It has over 900 lights that are spaced 2 feet apart on 13 different runs. The smaller measures 35-feet wide and 50-feet long with over 450 lights. Each light is a G-40 LED spherical bulb.

Package includes: Weekend rental of lights and framing, delivery of product, installation, programmed on/off timer, and removal.

Package Prices:
35X50-foot Edison Tent with beam supports-$1750
-with a tree as a central support (this does not include the price of lighting the tree, as shown in the picture)- $1850
-with two trees as a central support- $1950

-70X100-foot Edison Tent with beam supports-$2500
-with a tree as a central support (this does not include the price to light the tree, as shown in the picture)- $2700
-with two trees as central supports- $2850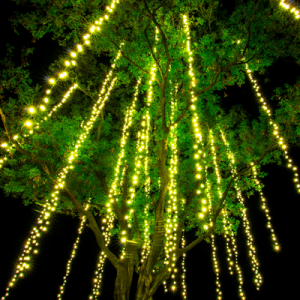 Willow Tree
The willow tree light package will transform any tree into a willow for the weekend. When coupled with petal light strands, the tree is decorated with long strands of white flowers during the day and becomes a gorgeous glowing willow by night. For added movement, we recommend renting our twinkling lights that fade in and out at random intervals.

Product Specs:
-each strand measures 25-feet long, has a 6-inch spacing between each light, and has 50 lights
-lights are warm white LED and very bright
-petal strands each have over 200 petals per strand

Package includes: Weekend rental of 24 light strands, delivery of product, installation, programmed on/off timer, and removal.


Package Prices:
Standard Willow- $1,000
Petal Willow-$1,600
Standard Twinkling Willow-$1,125
Twinkling Petal Willow- $1,800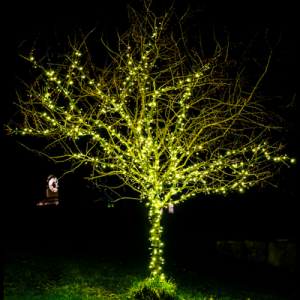 Branch Wrapped Tree
Our branch wraps give definition to the individual branches and shape of the tree. Ideal for trees with sparse canopies or leaves that start higher up, this style of tree lighting typically adds the most amount of depth and light. If the canopy is thick, the tree will have a soft glow from the inside, but will not have the definition that is shown in the picture.

Blow are estimated prices for lighting a standard tree with 5mm warm-white lights, within the given height ranges. If your tree is abnormally wide or thin for its height, prices will be adjusted accordingly. Anything bigger than the sizes listed will require a consultation.

Package includes: Weekend rental of light strands, delivery of product, decoration of one tree, programmed on/off timer, and removal.

Package Prices:
-5-10-foot tree- $300-$350 per tree
-10.5-15-foot tree- $375-$525 per tree
-15.5-20-foot tree- $550-$1050 per tree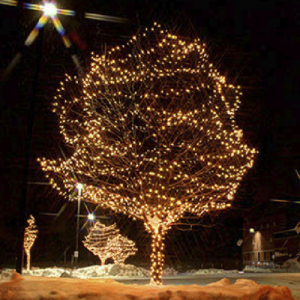 Canopy Wrapped Tree
Canopy wraps are a popular look for those hoping to give their tree a beautiful silhouette without having to fill the inside of the tree with lights. While this style of decoration uses fewer lights then a branch wrap, the tree can appear brighter due to the lights being closer to the edges. This style is ideal for trees with thick canopies where the full effect of a branch wrap would be lost.

Blow are estimated prices for lighting a standard tree with 5mm warm-white lights, within the given height ranges. If your tree is abnormally wide or thin for its height, prices will be adjusted accordingly. Anything bigger than the sizes listed will require a consultation.

Package includes: Weekend rental of light strands, delivery of product, decoration of one tree, programmed on/off timer, and removal.

Package Prices:
-5-10-foot tree- $125-$175 per tree
-10.5-15-foot tree- $200-$275 per tree
-15.5-20-foot tree- $300-$400 per tree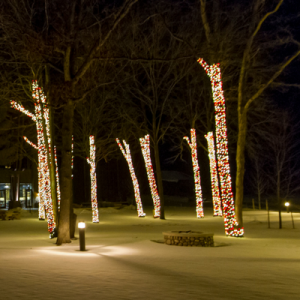 Trunk Wrapped Tree
Trunk wraps are an excellent choice for those who want to light a large number of tall trees. The prices are estimated for a tree with a circumference of 3.5-4.5 feet (a tree that you could hug and touch your hands together on). The height estimates how far up the tree we would wrap with our 5mm lights. The pictured trees reach 20-25 feet up the trunk and have trunk circumferences of about 4-feet.

If your tree is thinner or thicker around the middle than our example size, prices will be adjusted accordingly.

Package includes: Weekend rental of light strands, delivery of product, Decoration of one tree, programmed on/off timer, and removal.

Package Prices:
-5-10-feet of lights- $150-$225 per tree
-10.5-15-feet of lights- $250-$325 per tree
-15.5- 20+ -feet of lights- $350-$500+ per tree