Roof lines, tree wraps, greenery, and more!
Whether it be your home, building, landscape, or even interior… we have a lighting solution for all purposes. Scroll down to see our styles and check out our past projects and inspiration gallery for more examples.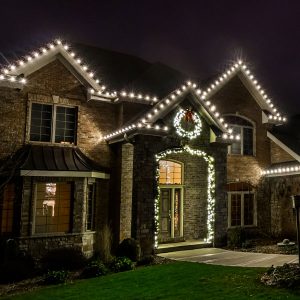 Roofline
When looking at a property, the most common approach is to light the roofline because it covers a large area and can be seen from far away. This style of lighting prouduces the largest impact typically for the amount of product needed. Homes with architectural features such as multiple dormers, large peaks, or irregular curves make for the most unique designs.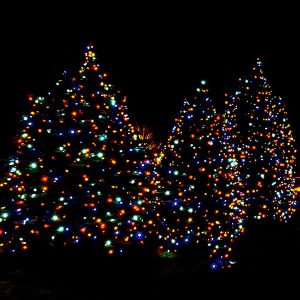 Evergreen Trees
With many size and shape variations, evergreen trees allow for a wide range of lighting techniques. This style of lighting provides a very traditional look to any display. Whether it be hundreds of lights wrapped in the canopy of that small spruce tree, or thousands of lights in that huge 75 foot pine seen from miles away… evergreen trees are a great addition to any holiday display.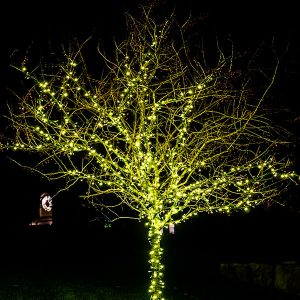 Branch Wrap Trees
This style of lighting is perfect for a tree with a thinner canopy. The more wild the branches look, the more interesting the tree will look at night. The branch wrapping method uses strands to wrap around individual branches and create a one of a kind design.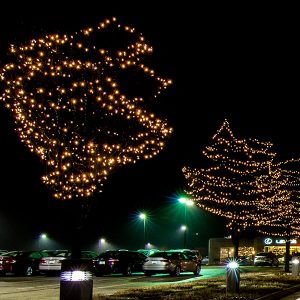 Canopy Wrap Trees
Unlike branch wrapping, this lighting style is used more commonly on trees with fuller, thicker canopies. Instead of seeing the individual branches at night, the end design showcases the entire canopy of the tree. This method is best used on a very uniformly shaped tree.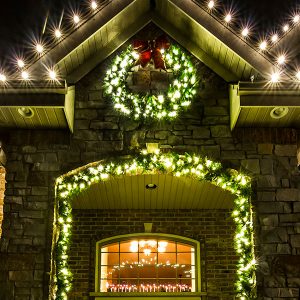 Garland & Wreaths
With any kind of greenery, many options exist. Artificial wreaths and garland are very common with residential displays. Live greenery items however, are also used, especially in commercial applications such as large mall areas. Either option creates a beautiful touch to any home or building. Paired with a roofline display, this method can provide a clean and elegant look.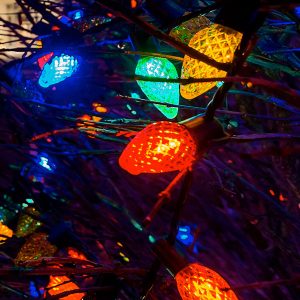 Specialty
A bit more unique in style, there are many options for lights that will stand out from the rest. Hanging objects from tree canopies, lit holiday signs, or even motion capable objects… there's an option for any display. Combine this style with one of the others listed above and it'll be like nothing else in the neighborhood.