Is Your Home Holiday Light Ready?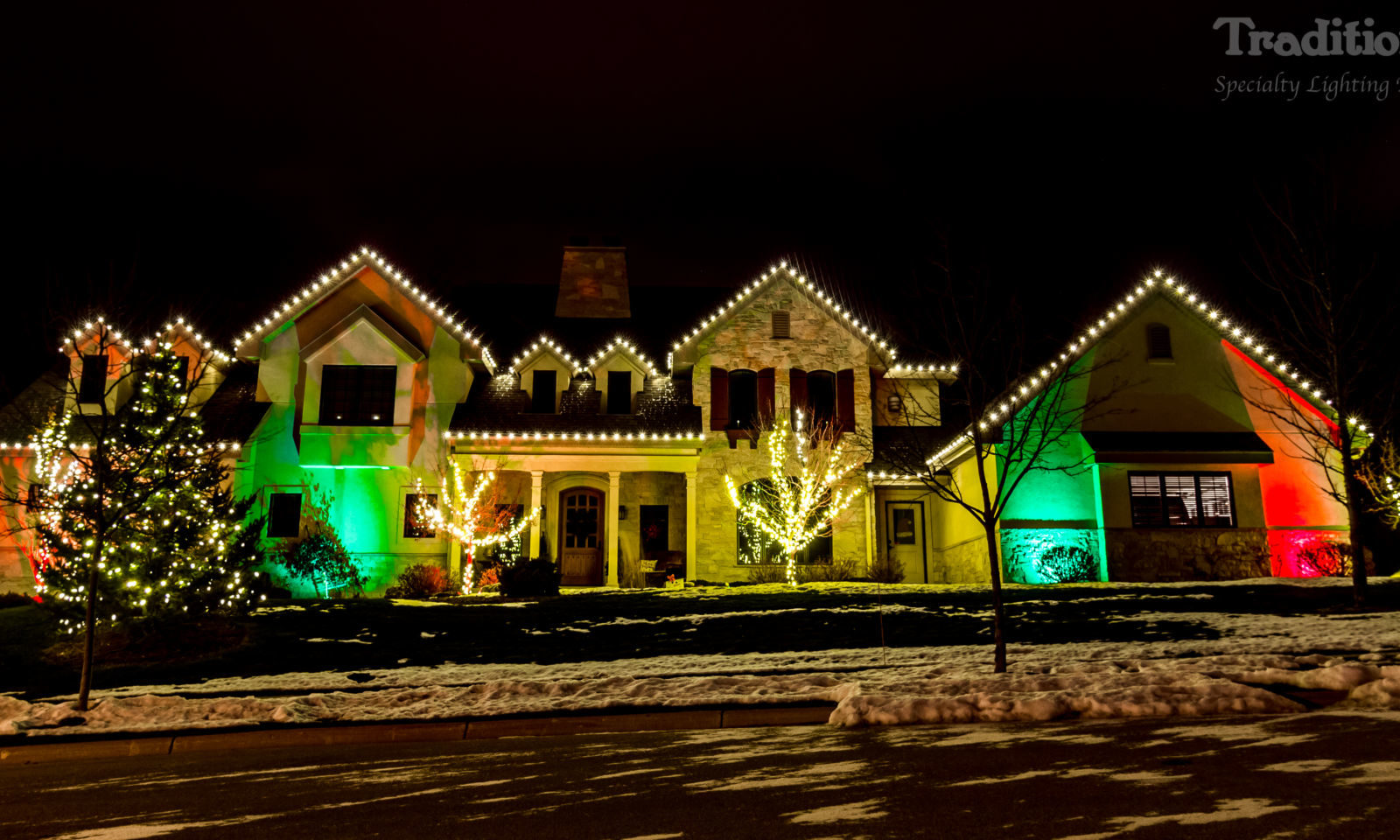 When it comes to holiday lighting (and exterior lighting in general) there are many factors that come into play. Most people think that setting up a lighting display is as easy as buying some lights, grabbing a staple gun or some zip strips, and having a quality ladder to help you reach those high points. There is some truth to this for DIY projects, but if you want professional holiday lighting there is so much more to look for.
Ranging from multi-colored bursts of holiday spirit to clean and elegant white light displays, designing a property for holiday lighting can go in almost any direction. However, there are some common core elements that we at Traditions look for at every new client consultation. The question that you now need to ask yourself is, "Does my home have these elements?"
Roofline
This is the most common element in all residential holiday lighting. When it comes to holiday lighting we look for character in rooflines such as peaks, dormers, curves, and any other unique shapes. Roof lighting is typically crisp, clean, and elegant with white lighting. However, with the correct bulb choice and home appearance multicolored lights can be used to add some fun and add even more character.
Holiday Wreaths
Any home with a large peak can benefit from a large wreath with an accompanying red bow. The wreaths colors typically match that of the roof lights and red happens to be the most common bow color (gold looks equally as nice). One of the primary things that we think about is how are we going to mount the wreath? In order to make sure that the wreath is sturdy and stable, a strong anchor is needed. We have found homes that contain elements of stone, wood, or brick to be the best applications.
Holiday Garland
Garland has always been a more traditional look when it comes to holiday decoration. Garland works well around posts, railings, and entrances. A well placed piece of garland works great to complement any white light or multicolored light display. When it comes to garland, the same color methodology as wreaths applies here.
Trees
When you happen upon a holiday lighting display what is the one thing that you seem to notice more than anything else? You guessed it; trees. Trees are where the true creative holiday spirit can really shine. White lights look great in trees, but we often recommend that our clients consider multicolored lights to light up their trees. The style of holiday lighting for trees varies from large to small. Designs include canopy wrapping, branch wrapping, and even hanging some unique items from within the tree itself. Things that we look for in trees are unique curves within branches, and when it comes branch wrapping the crazier the branches the better!
2D or 3D Figures
For those of you focused more on the playfulness of Christmas there is always the option to add in 2D or 3D objects such as santa, snowflakes, or even elves. Most of these can be staked into the ground or mounted into the side of your home. This playful element is typically a hit among all of the kids in the neighborhood!
After reading these tips it may be best to ask yourself again, "Does my home contain these holiday lighting elements?" The good news is, most of the homes in the Madison area seem to contain these elements, and Traditions is looking to expand our client base here. Luckily, with more people and businesses expected to move into the Madison area in the next few years, more homes are sure to be built with these creative elements.
In the last year alone Traditions has gained more than eight new clients in the Madison area. Kelly, one of our clients in Sun Prairie, WI had this to say about her most recent experience with us, "I have always loved all the lights on houses during the Christmas season, but we have hated the work of putting them up, taking them down and the struggle of keeping them all lit the entire season. Traditions took away that pain by installing lights they customized to fit our house perfectly. They took them down at the end of the season and are storing them until next Christmas season. They did a fantastic job and our house looked wonderful!"
Traditions is up to the challenge to help make Sun Prairie the most lighted community this holiday season. If you feel that your home is ready to embrace a little extra holiday spirit this year please do not hesitate to contact us!