Landscape Lights- Where to Even Start?

Landscape lights are one of those home improvement projects that has been around for a while, and for good reason. We love the look of a well-lit home and can really get behind the practical benefits of increased security and safety. Doubly so in the winter months when the sun is only out for fifteen minutes a day and the sidewalk is a death trap of ice and snow.  But where to start? With so many products available on the market and so much info on the web, it takes an expert just to give the basics.
The most important part of any home improvement project is hands down the planning process.
    Always start with the question- What is it you want this project to do for you? There are the general tasks that any great landscape light display will accomplish, such as upping the curbside appeal, deterring vandalism and robbery, and increasing safety by limiting dark tripping hazards.  But what are your specific needs?  Do you have a space in your yard that you would like to use at night, such as a patio or porch? Is it seasonal? Do you want to be able to change the colors of your home for seasonal holidays or special occasions? What do you want your lights to do for you? 
The appeal of using a professional is that the best in the market distinguish themselves by helping you answer that million dollar question. They can look at your property and quickly see the best potential landscape lights display and then tailor those options to best suit your specific needs. Much of this ability comes from experience and familiarity with the process and product. Use their expertise if you are struggling with this step!
            Once you work out your goals for the project, you can start looking at product. There are a few different generalized categories of lights. Each fixture is designed to be the best option for specific desired effects. Having a basic idea of what you want makes sifting through these light types a breeze.  
Up Lighting- Being the most common of styles, up lighting can be used for many applications on a landscape. Whether it be a grazing effect casting light up your home, a shadowing technique to highlight a specific object, or simply a powerful light shining up the base of your mature tree, there's a fixture for all your needs.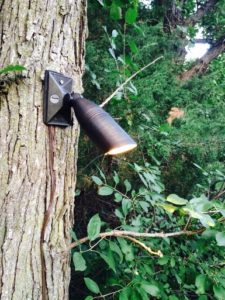 Down Lighting- Also referred to as "moon lighting", down lighting provides a soft natural light over large areas. The most common way to accomplish this lighting style is to mount light fixtures up in the canopy of a tree. The light shining down through the branches can create a shadowing effect and add a unique design element to the landscape light display.
Path and Spread Lighting–Both styles are commonly used in garden areas and along paths. Spread lights have a similar look to a path light, however, they are used to highlight plant material and create pools of light over the landscape and other architectural features. Path lights provide a safe and welcoming passageway for guests leading up to the front door. They can be staggered along any path or landscape to illuminate borders and add depth to the property.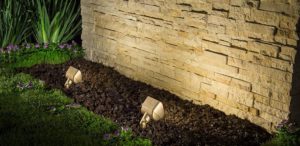 Wall Lighting–Wall lighting is one of the most common ways to utilize lights in your landscape. This style of lighting offers a wide array of techniques such as, grazing, wall washing and silhouetting or shadowing. If you are looking to illuminate your home for security purposes, basic wall washing or grazing will accomplish this. To accomplish the security aspect and maintain a high-end look, shadowing will add visual appeal to the wall. Placing up lights in front of shrubs or up against the wall creates interesting patterns and textures on the wall you are highlighting.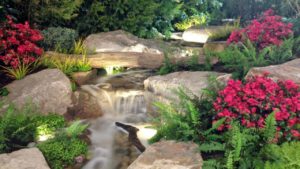 Specialty–In some cases, the common lighting fixtures and techniques aren't enough to complete a display. Water features in a landscape present a unique opportunity to use our underwater light pucks. We can highlight waterfalls and rock outcroppings in a pond or add ambiance to the most beautiful water fountains and statues in the landscape.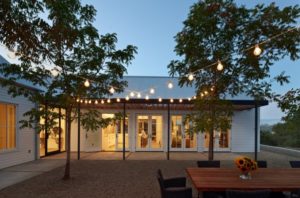 Cafe and Patio– Café lights or Edison bulbs are a great way to highlight any outdoor space. They give off enough light to properly illuminate patios and outdoor seating areas but radiate a warm glow to create a very inviting and cozy environment. If you have a space outside, the sky is the limit and it can feel very open. Overhead lighting is a cost effective way to enclose and warm up a space, while maintaining the integrity of the outdoors.
  The Good, the Bad, and the downright Ugly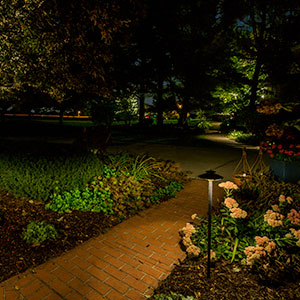 The Good– We use a low voltage light system in all of our displays. The energy consumption is incredibly low, the system is clean and customizable, and it works. Our light fixtures and tech are permanently buried into the ground and rarely if ever, require replacement or repair. They are exactly as dim or bright as we program them to be and have the most range of customization.  Such a setup is the industry standard for professional landscape lights. For more information on our preferred product, visit here and here. 
The bad– Solar Product- As much as we love love love the idea of solar landscape lights, the technology is just not there yet. The lights are either extremely expensive and barely work or very cheap and quickly break. Either way, we have yet to find one that passes muster and trust us, we have searched. Our best solution to powering your landscape lights with clean, renewable energy is to power your low voltage system with solar panels that power your entire home.
The Ugly-Incandescent Product- Most have moved away from any kind of incandescent lights, and for good reason. The lifespan of one LED bulb is 50,000 hours. A standard incandescent is 2,000. The quality is just not up to standards. Because of the major switch to LED, most of the incandescent product on the market are extremely low quality and not at all what you want to be wasting your time and money on.
In conclusion, spend as much time thinking as you do doing and invest in solid product. Hopefully, this will serve as a basic foundation to how to build your landscape lighting dream display. Good luck and don't be afraid to give us a call if things are not as bright as you envisioned!