Light your home, path, and more!
Properties have a lot to offer. Trees of all sizes, unique home features, decorative brick and stone…. we have a lighting solution to fit all property needs. Scroll down to see our styles and check out our past projects and inspiration gallery for more examples.
Landscape Lighting Styles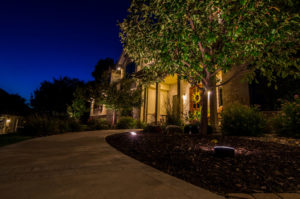 Up Lighting
Being the most common of styles, up lighting can be used for many applications on a landscape. Whether it be a grazing effect casting light up your home, a shadowing technique to highlight a specific object, or simply a powerful light shining up the base of your mature tree, there's a fixture for all needs.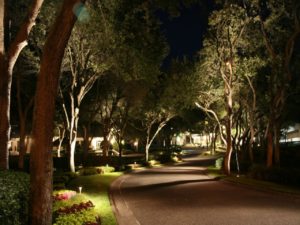 Down Lighting
Also referred to as "moon lighting", down lighting provides a soft natural light over large areas. The most common way to accomplish this lighting style is to mount light fixtures up in the canopy of a tree. The light shining down through the branches can create a shadowing effect and add a unique design element to the display.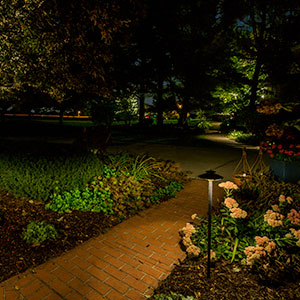 Path & Spread Lighting
Both styles are commonly used in garden areas and along paths. Spread lights have a similar look to a path light, however they are used to highlight plant material and create pools of light over the landscape and other architectural features. Path lights provide a safe and welcoming passageway for guests leading up to the front door. They can be staggered along any path or landscape to illuminate borders and add depth to the property.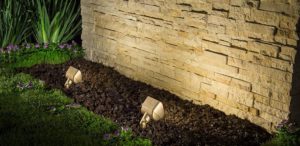 Wall Lighting
Wall lighting is one of the most common ways to utilize low voltage lights in your landscape. This style of lighting offers a wide array of techniques such as, grazing, wall washing and silhouetting or shadowing. If you are looking to illuminate your home for security purposes, basic wall washing or grazing will accomplish this. To accomplish the security aspect and maintain a high-end look, shadowing will add visual appeal to the wall. Placing up lights in front of shrubs or up against the wall creates interesting patterns and textures on the wall you are highlighting.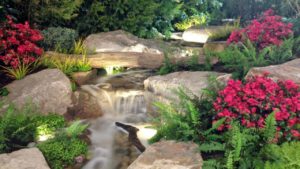 Specialty
In some cases, the common lighting fixtures and techniques aren't enough to complete a display. Water features in a landscape present a unique opportunity to use our underwater light pucks. We can highlight waterfalls and rock outcroppings in a pond or add ambiance to the most beautiful water fountains and statues in the landscape.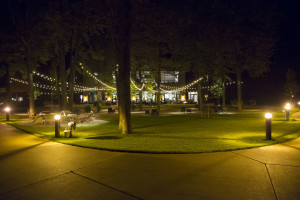 Café & Patio
Café lights or Edison bulbs are a great way to highlight any outdoor space. They give off enough light to properly illuminate patios and outdoor seating areas, but radiate a warm glow to create a very inviting and cozy environment. If you have a space outside, the sky is the limit and it can feel very open. Overhead lighting is a cost effective way to enclose and warm up a space, while maintaining the integrity of the outdoors.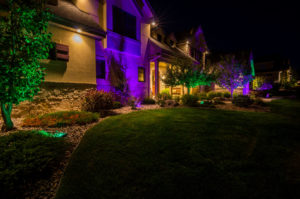 Zoning, Dimming and Color Systems (ZDC)
Low voltage landscape lighting has kept pace with our ever-changing world of technology. Customers can now enjoy the luxury of having one system installed that does everything from the palm of their hand. ZDC systems act as your basic low voltage system illuminating your home or landscape, only they are much smarter and capable of changing thousands of color combinations to any light fixture at anytime. Now you can add a special touch to any holiday display or event at your home by changing the colors in the landscape and on the home. The best part is, every theme can be programmed and turned on from the touch of a button on your smart phone.